We're a one-stop source
for residential and commercial glass products.
We design it. Fabricate it. Install it.


Expect better quality-control with faster turnaround times.
Milwaukee Plate Glass has provided single source services and products to meet the demands of our customers since 1950. Retail services provide homeowners and contractors a local source for unique glass products and services.  Our experienced staff and specialized equipment, such as glass edge bevellers, polishers, washers and a CNC for pattern cutting allow us to maintain all of our services on site and products delivered on time! Our services include:
Custom Shower Door Sales & Installation
Custom Glass & Mirror Shapes
Custom Glass & Mirror Hole Cut-outs
Custom Glass Table Tops…for desktops too!
Custom Glass Shelves & Installation
Custom Mirror Frames
Sandblasting and Glass Stenciling
Visit our Showroom

to see a large selection of glass shower doors, custom framed mirrors, glass shelving, tabletops, and more! We're ready to help with your new home design or remodeling project!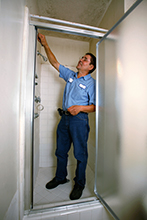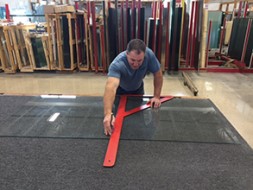 Installation is available on all of our products!
Commercial Services
Milwaukee Plate Glass is an established and recognized fabricator, installer, and distributor of commercial-glazed aluminum fenestration products and glass. Staffed with skilled and experienced employees, equipped with state-of-the-art machining and fabrication equipment and a fully stocked warehouse of glass products, hardware, doors and framing components.  We have a fleet of fully equipped glass trucks and lifts to complete any size project. – MPG can provide single source services and products to meet the demands of our customers.
Commercial Services Available:
Project management
LEED certification reports
Fabrication & installation of:
Curtain wall
Entrances & Storefront
Fixed & operable windows
Glass & glass replacement
Interior glass partition walls
Glass canopies
Glass railings
Mirrors